Dark Liaison (Ema Marx #2) by J.D. Brown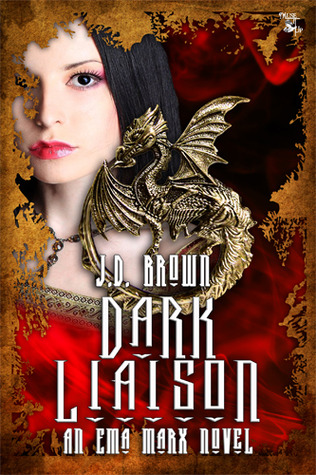 Ema Marx wishes her life would go back to normal, but there's nothing normal about being a Romani-Vampyre with an ancestor who wants you dead. Apollyon is back, wreaking havoc on the lives of everyone she cares about while plotting her demise.
Ema thought she would find a new best friend in her trainer, Bridget, until the exotic vampire vies for Jesu's attention. Jesu can date who he wants, right? Ema has more important things to worry about, like honing her powers. When Apollyon's thugs appear out of the shadows to attack her, Ema knows it's time to take action. But everyone else has other plans in mind.
One thing is for certain, being under house arrest in the German vampyre king's castle was not part of her plan to save the day.
My thoughts (Roxana):
You know that feeling when you get a good bokk in your hands and you don't want to open it just yet because you know that crazy rush from reading is going to be too short and you just want to hang on it?
That was how I was feeling before opening my kindle, that experience of a rush like no other, and I kept getting more with every page that I've read until... it was over, but let's talk about what you really want to hear, shall we?
But before that, be carerful because there are some spoilers ahead- in the last book we learned that Ema really was THE human that Jesu had the premonition about. She was the one that could defeat Apollyon, the self-appointed King. But Ema has no fighting experience so how is she supposed to kill Apollyon? That's Jesu's job: to train her so she would become the warrior they want, but who really wants for Ema to fulfill her destiny and who are her enemies?
So se is flying to Germany with Jesu so Ema can begin her training sessions and even though Ema has growing feelings for Jesu, she holds back. After all their history and all the danger they are facing, would it be wise to start something that could end badly, or even worse destroy their kind?
But Bridget offers to train Ema and to teach her their history of her kind. That's a really good thing because she can find out more and in the same time she has a pretext to keep her distance from the object of her lust...
But what you don't know is the little fact that Bridget is a old flame of Jesu. Don't worry he doesn't love her know, but she wants him back and like that old saying keep ypur friends close and your enemies...Well, Ema would learn that on the hard way when she flat out rejects him and he turns to Bridget, she accepts him. And then Ema sees them kissing so it's safe to say that she isn't too happy about it.
With all this drama, we see some action when Apollyon comes after Ema with the help of some Zombies and Ema is seen using her powers in public. As her punishement, she must face the German vampyre King for sentencing. Now, Ema is alone, without the man she loves, because know is sure about her feelings and in so much troube that she can't find her way out. What would she do?
While I loved Ema for her courage and fiery nature, I was upset that she couldn't take a chance and give in to her attraction, more thatn that she keept rejecting Jesu, when he obviously, wanted a relationship with her...
Final Decision
- do you want a book packed with romance AND action, than this one is for you. It's a book that offers a new version about the origin of the vampires- making them successors of the nephilims kind
.
My rating 4,5/5
Ema Marx series...
About the author

J.D. Brown graduated from the International Academy of Design and Technology with a Bachelor Degree in Fine Arts. She currently lives in Wisconsin with her two Pomeranians. Growing up in the suburbs of Chicago, her writing is influenced by the multicultural urban society of her youth which she continues to visit each summer. J.D. loves paranormal characters; from vampires and werewolves, demons and angels, to witches and ghost. Her writings are often a combination of suspense and romance.
J.D.'s books are available in e-book and paper back formats from Muse It Up Publishing Inc. and major e-book retailers. She loves to hear from readers. You can reach her via email to DarkHeirloom@gmail.com or visit her website at
http://authorjdbrown.com