Review: Beautiful Oblivion (Maddox Brothers #1) by Jamie McGuire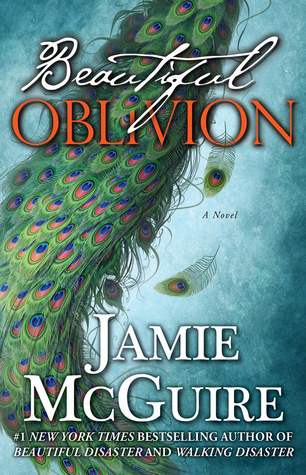 The Beautiful Disaster and Walking Disaster phenomenon continues in the first heart-pounding new adult romance in The Maddox Brothers series.
Fiercely independent Camille "Cami" Camlin gladly moved on from her childhood before it was over. She has held down a job since before she could drive, and moved into her own apartment after her freshman year of college. Now tending bar at The Red Door, Cami doesn't have time for much else besides work and classes, until a trip to see her boyfriend is cancelled, leaving her with a first weekend off in almost a year.
Trenton Maddox was the king of Eastern State University, dating co-eds before he even graduated high school. His friends wanted to be him, and women wanted to tame him, but after a tragic accident turned his world upside down, Trenton leaves campus to come to grips with the crushing guilt.

Eighteen months later, Trenton is living at home with his widower father, and works full-time at a local tattoo parlor to help with the bills. Just when he thinks his life is returning to normal, he notices Cami sitting alone at a table at The Red.

As the baby sister of four rowdy brothers, Cami believes she'll have no problem keeping her new friendship with Trenton Maddox strictly platonic. But when a Maddox boy falls in love, he loves forever—even if she is the only reason their already broken family could fall apart.
In the first installment of the Maddox Brothers books, readers can experience the rush of reading Beautiful Disaster for the first time, all over again.
My thoughts (Roxana):
Me... when I found out that there is going to be another book in this series...
Oh... and for finding out that this is just the first book...
"Watching him since grade school, I promised myself that I would never be a notch on his headboard."
We all know that the Maddox brothers are trouble with a big T and Cami is no stranger to their situation, and even though she feels the attraaction to this bad boy, she keeps her distance, even more so because she has a boyfriend, T.J, who she is deeply in love to, but that's the big problem, because where she wants to be with him always, he.... isn't there for her. I so want to tell you more about their relationship, but I can't without telling you the secret, so I'm just going to be cryptic and tell you that he has a 'job' that keeps him away from her. But it's a good thing that Trenton is here...
"I was just thinking now was as good a time as any to acknowledge that you're perfect and it wouldn't suck if you feel madly in love with me anytime soon."
I have a boyfriend," I reminded him.
… "Speed bump."
He's a funny, endearing, damaged boy who is more open to people than Travis was, and he's not afraid about showing his 'soft' side to the world, even though he has his womanizing ways, his big heart is there in plain sight...More so,
Trenton is there for her, giving her love and attention amidst laughs that begin to infuse life and color into her day-to-day, give her everything a girl would want- attention, loyalty, laugh and love
.
No, in this novel, Cami is the one who resists his charms and their attraction, because she's afraid. Damaged by her parents relationship, she grow up scarred, but more than anything she didn't want to start something with Travis, not as long as she has her own problems, job, school and a boyfriend. But, he doesn't want to keep his distance, and with the Maddox's charm, he infiltrates so deep under her skin, that she can't escape him, and like always, when it comes to those brothers, they hall hard and fast, and it's true love...
"I was pretty damn smart. Smart enough to have kept my distance from Trenton all these years. I'd seen him flirt, seduce, and evade since we were kids. There was absolutely no trick Trenton Maddox could play that I wouldn't be ready for."
"Her long platinum blond hair fell in loose waves past her shoulders, with a few black peekaboo strands. She wore a black minidress and combat boots."
This story starts with Cami and Raegan going to have a girl night out, but somehow she has an encounter with Trenton and his brother, Travis (yes ladies, we see our favorite tortured bad boy again), where he tries to deliver a sexy line with his Cassanova's attitude, but Cami, after growing up with three brothers and a cousin, she isn't afraid to speak her mind, and both having a passionate and stubborn nature, sparks are flying from the first moment.
"Raegan and I were on the opposite side of town, strutting across the gravel lot of the Red Door, slowly and in unison, as if we were being filmed while walking to a badass soundtrack."
Remember how I mentioned Cami's long distance relationship? Well, she doesn't want to cheat, but Trenton being Trenton he wants to be with her in any form that she'll allow him... so that's how a beautiful friendship blooms between this two souls. And I loved every freaking moment between them...
"I'll help you get lost any time, Sunshine. The only deal is you have to promise to come back. I never want to lose you again."
Final Decision
- I don't know way it's so rare for me to find a friends turning lovers kind of story, but definitely, I'll have to check more this stories type in my future, because it was a brilliant story that wakes a myriapods of emotions in the reader's life, giving the ups and downs required to my reading addiction. So... I recommend this book to every Maddox fans out there, but also to any reader who loves to read a masterpiece book.
My Rating: 5/5
And just one last advice for Ms. McGuire:

The Beautiful and The Maddox Brothers series...
About the author
Jamie McGuire was born in Tulsa, OK. She attended the Northern Oklahoma College, the University of Central Oklahoma, and Autry Technology Center where she graduated with a degree in Radiography.
Her most recent novel, Walking Disaster debuted at #1 on the New York Times, USA Today, and Wall Street Journal bestseller lists. She has also written bestselling contemporary romance Beautiful Disaster, and the Providence series.
Jamie now lives in Enid, OK with her three children and husband Jeff, who is a real, live cowboy. They share their 30 acres with six horses, three dogs, and Rooster the cat.