That Night with My Best Friend's Brother by Helen Cooper, J.S Cooper
Blurb: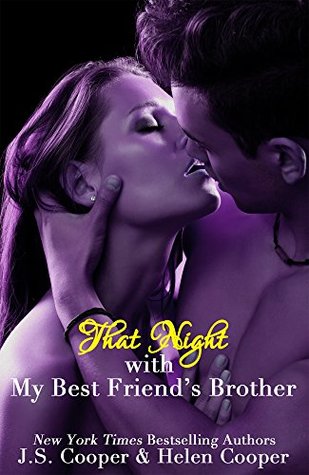 I want more than one night with Aiden Taylor.

Aiden Taylor is my best friend's brother. He's sexy, charming and drop dead gorgeous. He also doesn't know I exist as anything other than his little sister's best friend.

However, I'm determined to change that. I'm Alice Waldron. Twenty-two, spunky, and adventurous. I'm willing to do whatever it takes for Aiden to notice me. And Liv, my best friend, is determined to help me as well.

The only problem is that I have a small secret. A secret that could make my getting together with Aiden Taylor very complicated. A secret that could make more than one night with Aiden nothing more than a dream.
NOTE: This novella is a free prequel to the full-length standalone novel Falling For My Best Friend's Brother, that will be released at the end of February. This novella will also be included in the full-length book when it is released, so you can read it first as a free download or you can read it as part of the novel on release day.
My thoughts (Roxana):
I think that all of you know by now what I thought about That Night and One Night Stand the first novella and novel in this... series of stand-alone books. For those who don't know, you can buy the first book and read it without being necesary to also read this novella (or Falling for My Best Friend's Brother Who is up for preorder in this moment), but if you liked One Night Stand, then why wouldn't you want to read the next one?
"I have a piece of advice for you. Never fall in love with your best friend's brother. Don't fall for his boyish smile or his gorgeous big blue eyes. Don't fall for his bulging biceps or his arrogant smirk. There's nothing good that can come from falling for him. Trust me, I know. My name's Alice and I have the biggest crush on my best friend Liv's brother, Aiden. He's everything I want in a man , aside from the fact that he's brooding, overprotective, annoying, and too devastatingly handsome for his own good. Aiden Taylor was everything I wanted in a man, but he was the one man that I couldn't have. "
If you have any doubts about this sequel, I assure you that you would love it even more, because now the game has changed and Aiden and Alice aren't some strangers having a good time.... oh no, we are kind of past this because when she was sixteen she seduced him, but the next morning was a disaster because Aiden wouldn't even speak about it! So, obviously, Alice was certain that he was disgusted with her and I understood her.... I mean... what woman after a passional and hot night with the best friend's brother wouldn't have reacted this way when said hot crush seems somewhat disgusted about it and doesn't mention anything about it for YEARS!
Yes... I wanted to slap Aiden for being such a jerk with her, even though it was obvious his attraction for her in One Night Stand novel. But life always gets in the way, especially when Scott, his brother kisses Alice and Aiden is present on this scene.
I have to admit that even though I trust Jaimie to resolve every every obstacle that hinders progress with our main characters in every novel she writes, I was feeling every angsty moment and thought in Alice's love life, with her Facebook stalking... ahem.... searching or with the presence of a certain Elizabeth who promises to bring more troubles to this couple....
"But this whore Elizabeth is commenting on his wall."
"What? A prostitute?" Liv's eyes widened and she looked down at the computer to see what I was talking about. "How do you know she's a working girl?"
"Oh," I said meekly, feeling bad for calling my unknown nemesis and enemy a whore. "I don't know if she's really a whore, Liv. Keep up." I rolled my eyes at her.
"What?" She looked up at me. "You're confusing me. Is my brother dating a whore or not?"
While Alice is very emotional about her crush, overanalyzing every move that Aiden makes, every gesture of his.... yes, even more than Liv. That's one of the reason for telling to Liv the truth about that night. But with this ocasion, we also see how Liv and Xander's new relationship affects her. I have to admit it that I found her interactions with Liv's boyfriend very amusing, especially when those three think about a plan to bring Aiden and Alice together.
"Liv!" I screamed as my face went hot. "You told Xander?"
"Xander." Liv turned to him with angry eyes. "What are you thinking?"
"What?" he asked innocently.
"Why would you tell Alice that I told you ?" She sighed and looked at me with apologetic eyes. "I'm sorry, but he wanted to know what was so important that I'd kick him out last night."
"So you told him?" My jaw dropped. "I can't believe you told Xander that I lost my virginity to Aiden."
"You had sex with Aiden?" Xander's voice sounded shocked and my heart froze as I looked into Liv's eyes.
"You didn't know?" I frowned at him and then looked back at Liv. "I didn't tell him everything." She sighed. "I didn't want to tell him everything. I just told him that you slipped into Aiden's bed one night and kissed him."
"Sex is a bit more than a kiss."
Not only that it was very amusing to see how a guy think or more importantly how Liv thinks that a guy treat a problem, but we also see what are Xander theory about Liv's brother and.... I was very shocked about it , so I can't wait to see if his theory is in fact true (and I really hope that it is) and how Alice is going to use that bits of information to be back in Aiden's bed and this time forever.
While this novella is a very short and sweet one, it's also giving us an insight about what turn this story takes and what to expect about Falling for her Best Friend's Brother and I must say that I was enchanted by the dynamic of this new group and the sweet and endearing tidbits in the future of Xander and Liv's relationship....
Final Decision:
This novella is very sweet and short, but it shows us the exactly amount about what to expect in the next novel and I'm very excited to read the new masterpiece coming from J. S. Cooper and Helen Cooper and I will tell you a secret.... I'm even more excited about Falling for my Best Friend's Brother than I was for One Night Stand if that's even possible, so my advice: read it as soon as possible.
My Rating: 5/5
About the Authors
J. S. Cooper
is a New York Times and USA Today bestselling author. She is a true romantic that is in love with love. The J. S. stands for Jaimie Suzi. She just thought J. S. sounded cooler! J. S. was born in London, England and moved to the States at age 17. She studied history in college and then went to law school and then decided to follow her writing dreams. J. S. writes 'New Adult' contemporary romance books because that is what she also loves to read.
Upcoming books: Rhett in Love, Keeping My Prince Charming, Illusion, If Only Once (The Martelli Brothers), and Carry My Heart.
Join my mailing list to be notified when new books are released:
http://jscooperauthor.com/mailing-list/
Please join J. S. Cooper on her facebook page if you enjoy her books here:
https://www.facebook.com/J.S.Cooperauthor
.
Helen Cooper
is a true romantic. She believes in true love, soul mates and lots of fun. She enjoys reading, playing tennis and writing romance and erotic romance books. She also enjoys trashy TV and is never happier than when watching 'The Bachelor,' 'Big Brother,' 'Drop Dead Diva,' or a number of other shows.
Helen's upcoming books include: Alpha Billionaire 3, One Night Stand, and Four Week Fiance.
Join my mailing list to be notified about new releases here:
http://helencooperauthor.com/email-list/
I love to hear from my readers so feel free to contact me.
Email me at Helencooperauthor@gmail.com.
Like my FB here:
http://www.facebook.com/Helencooperauthor
.
Add me on Twitter: @MsHelenCooper
Check out my blog here:
http://helencooperauthor.wordpress.com/